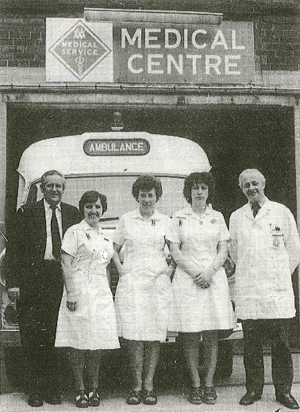 At the Medical Centre, Abercorn Yard. Left to right are Ambulance Driver Bertie Long, Nurses Myrtle Murray, Mary Devine, Diane Hunter and Tommy Saulters.
Harland and Wolff has its own "Health Service"
Since 'H & W News' was "born" in 1971 we have regularly printed details of Golden Shoe Awards In order to publicise the advantages of wearing safety footwear. We have also published appeals for employees to wear helmets, safety glasses and ear muffs. Unfortunately not everyone in the Company is safety conscious and many of the 90,000 attendances dealt with each year by the H & W Medical Service involve injuries which could have been avoided if the patient had taken a few elementary safety precautions. How does the service cope with its task?
The heart of the H & W Medical Service is located in the Medical Centre in the Abercorn Yard. Here our resident Doctor — Dr. Jim Sweetnam, MA, MB, B.Ch, BAO, MRCPI — controls not only the activities of the Centre but also of the six Treatment Rooms situated in various parts of the shipyard and engine works. They are sited at Musgrave Yard, the Plant Shop, Victoria Works, Thompson Works and Out fitting areas. The statutory requirement to provide first aid cover whenever more than 50 men are working is exceeded by the Company policy to provide a medical service and a nursing staff of 13 who operate a rota system covering day and night shifts to ensure continuity of competent service.
The nurses are qualified to give immediate treatment for minor injuries, and first-aid treatment in the case of more serious injuries. An important part of their job is to be on the alert for signs of other conditions which might not be apparent even to the patient. A man, for instance, who is frequently stumbling will need first-aid treatment for the injuries he receives; but he may well be suffering from impaired vision, lack of co-ordination, or defective balance.
Simple bruises may overlie broken bones, and apparently shallow cuts may involve damaged nerves or tendons. It is therefore one of the nurses' skills to recognise the import of all symptoms and (when indicated) to report them to the doctor for his consideration and advice on treatment. The shipyard, covering about 300 acres, and including well over 8000 "patients" is almost three times the size of a normal general practitioner's panel, and it is not surprising, therefore, that on any one day a wide variety of cases can be seen in the main waiting room. The nature of the work here, however, puts the emphasis more on cuts, broken bones, eye injuries, etc., than on bronchitis, sore throats, and other illnesses. Nevertheless the Centre attends to a large number of the latter, although these should of course, be properly treated by the patient's own doctor in the first place.
This emphasis on physical injury poses special problems for our nursing team, because despite all the accident prevention and safety measures the very nature of shipbuilding creates dangers which can lead to serious injury. It is because of this that the Medical Department has developed what is regarded a an extremely efficient emergency service.
Detection
The detection and control of potentially injurious processes can prevent suffering in the future; it is a less obvious but essential function and is of equal importance to that of treating patients. Another activity of the Department is the provision of fitness assessments. All "young persons" joining the firm have to be medically examined, and it is important for the welfare of individuals in certain jobs, for people with disabilities and for those around them that the physical capability is assured.
Works Ambulance
Our works ambulance, which is also based at the Abercorn Yard, is specially equipped to carry items not normally carried in an ambulance. Special equipment includes intravenous transfusion sets, electrocardiographs, gas ad ministration sets, inflatable splints, and paraguard stretchers — special stretchers on which a patient can be hoisted and carried in any position. Some of these are always available in our ambulance, others are included where their need is indicated by the description of the type of casualty When medical aid is called. A patient unconscious after a fall may require special support for spine and limbs; if unconscious without history of injury, artificial respiration and defibrillation equipment may be necessary to save life. Because on some occasions life itself can be dependent on the ready availability of these items it is essential that as much in formation as possible is given to the Medical Centre when a call is made for emergency assistance.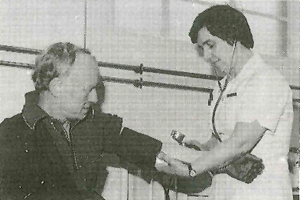 Nurse Murray checks a patient's blood pressure on a sphygmomanometer.
Experience
All the nurses have special experience in casualty work. In the case of several of the male attendants this experience was acquired during service with the armed forces where multiple casualties and difficult situations gave excellent training for the problems of primary aid in this yard. Stewart Hughes, who gained much of his experience in hospital ships, has been longest with H & W and is due to retire in July after over 30 years' dedicated work. Others who got their first taste of looking after the sick while in the Services are Sammy Thompson, the Department's Nursing Supervisor; Welshman Ted Jacobs; C.O.H.S.E. Convener Bert Mitchell and Walter Searles. Tommy Saulters joined H & W after three years spent in the Canadian Army, while the R.A.F. was the early training ground for Jimmy Duly and for Hugh Boal. Completing the male nursing staff are Herbie Fryers and John McDowell. The girls on the nursing staff are local-hospital trained, Mary Devine and Diane Hunter at Whiteabbey and Myrtle Murray at the "Royal." Occupational health care is not, however, concerned solely with the treatment of patients. It is actively involved with our Safety team in the prevention of accidents and with work associated illness with special emphasis on the recognition of materials and processes which could be harmful to health.
Other aspects of medicine
The Department is also concerned with many other aspects of medicine. It advises and performs, for instance, the vaccination of members of the workforce who have to go 3broad on duty, it maintains close contact with local hospitals, it works in co-operation with the Factory Inspectorate and the local Health Authorities to ensure that working conditions are healthy. In short, all aspects of the health of employees is the concern of the H & W Medical organisation — aided in their activities by the competent back-up of secretarial staff Isabelle Leeburn and Linda Bell, by the Ambulance Drivers who help in the care of the cases and who, often in difficult conditions, get them to the next stage of treatment.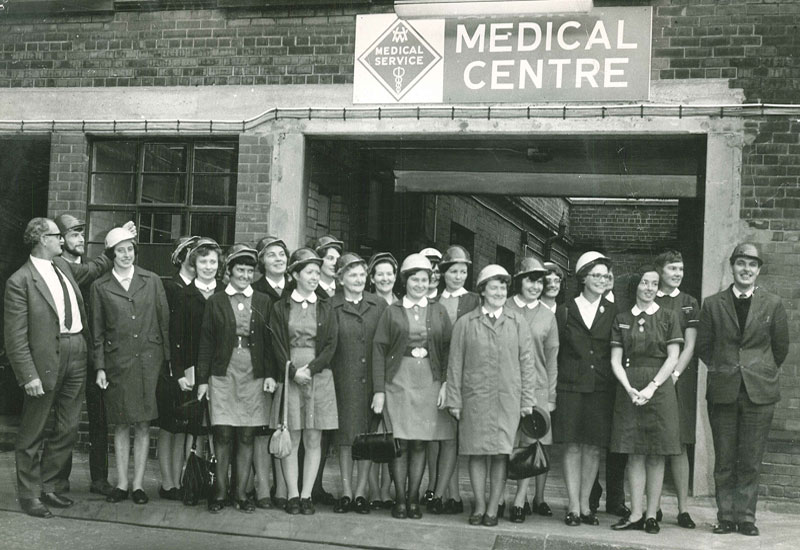 Belfast Medical Staff Circa 1968