Harland and Wolff - Shipbuilding and Engineering Works
Our high-quality Rolex fake models feature a double core silicone "O" Rings, made of solid tube rubber create an airtight seal, providing decent IP65 water resistance (rain/spash proof).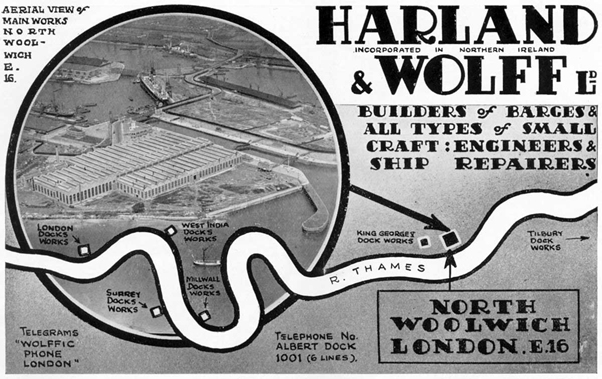 The Harland and Wolff yard in North Woolwich was the largest in London, another six H&W repair yards were dotted along the Thames at London Docks, Surrey docks, Millwall docks, King George dock & Tilbury.

At the North Woolwich yard the machine shop was capable of producing shafting up to 80ft long and crank shafts of 5ft 6 ins, there were upholstery and French polishing workshops, sail making, boiler making, a foundry able to forge iron with up to 14ins square section under hammer, producing castings up to 15 tons. In the 1930s they built here vessels for the Grand Union Canal Carrying Company. Known as the Small Woolwich class they were of composite construction, and fitted with National diesel engines. Later they built 24 vessels of the Big Woolwich class. They also built steam ships in the yard at that time, as well as other working boats, like lighters. The yard also worked on refits for major vessels, including warships. They undertook a range of repair and maintenance contracts for marine equipment. Other works were for instance eight marine diesel platforms - i.e. Esso Pegwell Bay - built between 1962 and 1964. One of the last vessels built by Harland & Wolff was the bulk cement carrier Blue Circle launched from their slipway in 1971. This 1,000 ton vessel was built for Associated Portland Cement Manufacturers Ltd.