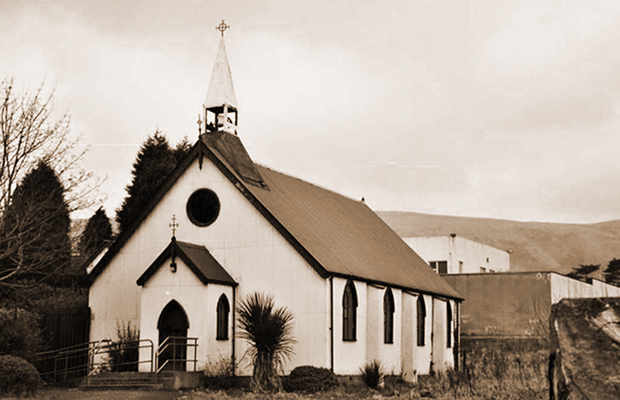 St Matthias RC Church, Glen Road, Belfast
Known locally as "the wee tin church", St Matthias first opened in 1892 for the local British military garrison and originally belonged to the (Anglican) Church of Ireland. Its corrugated iron construction makes it extremely rare and it is one of only eight surviving churches of this type in Ireland. They were manufactured by Harland & Wolff and most were exported. St Matthias was reconsecrated as a Roman Catholic church in 1970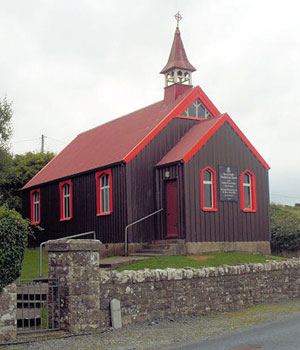 Rossnowlagh Presbyterian Church, Co Donegal.
This tin church, constructed by Harland & Wolff, dates from 1906. It was built as a temporary church for locals and holiday-makers by the Presbyterian congregation in Ballyshannon on land purchased by Rev Robinson Brown in 1903. It opened for worship on Sun 8 Jul 1906 in a service conducted by Rev RW Ross of Burt, Co Donegal. The church holds about 80 people.
Whitehead Presbyterian Church
The first Presbyterian place of worship in Whitehead was a corrugated iron church, built for £160 on a plot of ground near Slaughterford Bridge. It was formally opened on 13 July 1890, and although called the Presbyterian Hall, was used by worshippers of all denominations. Interestingly, 'wee tin churches' such as this were manufactured by the Harland & Wolff shipyard company and most were exported to support mission work overseas.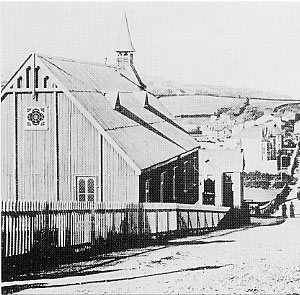 Published by Whitehead Community Association, Balmoral Avenue, Whitehead - 1983