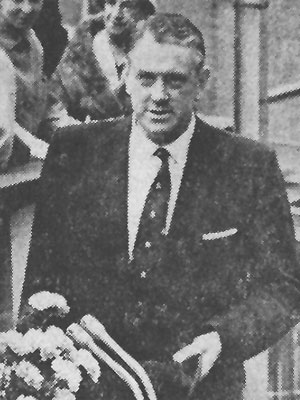 Dr Denis Rebbeck (Chairman 1965-1966)
Denis Rebbeck followed his father Sir Frederick Rebbeck as Chief Executive of Harland & Wolff. He was born in Belfast and educated at Campbell College. He then studied at Pembroke College, Cambridge, where he was keen on the mainstream sports there of rowing and Rugby. On graduating in 1935 with a BA in Mechanical Sciences, he joined Harland & Wolff, where he was to remain for the rest of his career, although his first work was building marine diesel engines under licence for Burmeister & Wain, in Belfast. His father was already Chief Executive and the firm was heavily engaged in war production; Denis's responsibility was the production of heavy gun barrels. In 1946 he became a Director at Harland & Wolff, in 1953 he was appointed Deputy Managing Director and eventually, on his father's retirement Managing Director, 1962.
Rebbeck, in his 1966 Message to Shareholders, pointed up restrictive practices and the number of days lost to industrial disputes as the principal cause of the company's decline. Rebbeck managed to obtain government help in the form of a loan, but only at the expense of his own position, as government aid was dependent on more direct government control. in 1966 Rebbeck stood down and became deputy Chairman. Denis Rebbeck retired in 1970.

Alongside his stewardship of the company, he pursued, earlier on in his career, academic qualifications and distinctions including the degrees of BLitt from the University of Dublin, MSc from Queen's University, Belfast the same year, and a PhD from Queen's in 1950. In 1951 he was appointed CBE. He sat on or chaired numerous committees, and not just within or related to the industry, and was widely in demand as a consultant and director; he regularly gave papers to distinguished professional bodies.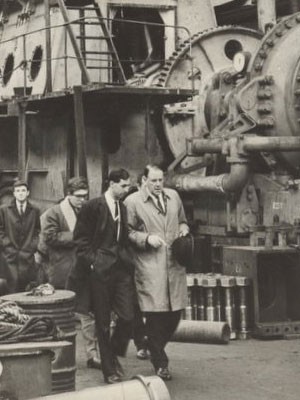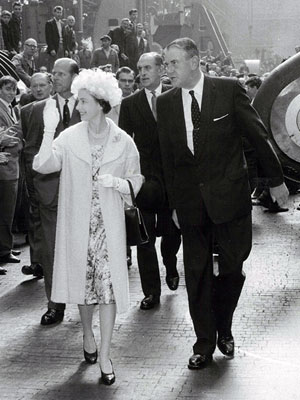 He was tall in stature (photographs of him showing visitors round plant show him the tallest in the group) and as his sporting activities might suggest, of stocky figure. These and his sociable nature made him a popular as well as respected figure, and he was known as "Big Denis" (a typical if hardly original Belfast nickname - in contrast to his rather smaller father, who during an industrial dispute was addressed, though not maliciously, by the strikers as "ye wee man ye").

Denis Rebbeck was the driving force behind the Goliath Cranes in an effort to cut construction costs and speed up production.

He died 10 May 1994 at his home in Craigavad, County Down at the age of 80.