Harland and Wolff - Shipbuilding and Engineering Works
Our high-quality Rolex fake models feature a double core silicone "O" Rings, made of solid tube rubber create an airtight seal, providing decent IP65 water resistance (rain/spash proof).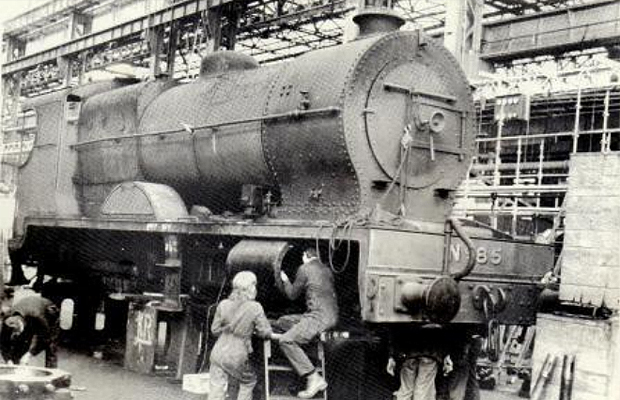 No.85 "Merlin"
Built by Beyer Peacock & Co., Manchester, 1932, works number 6733 Merlin underwent extensive renovation in Harland & Wolff's Engine Works between 1977 and 1982.
No 85 was moved from the Transport Museum by lowloader on 21st September 1977 and the next morning she went into the engine works.
LEFT: 1978 - Dismantling No.85 in the Engine Works - engine off its wheels, ashpan about to be dropped, apprentices measure the outside cylinders for wear, carbonisation, etc., while men behind buffer beam inspect the middle cylinder and slide valve faces. Eccentric straps are at bottom left of picture. (C.P. Friel)
The major work was the boiler retubing and fitting new boiler cladding and insulation. One bogie axlebox needed to be re-metalled as did the centre big end, and the crank pin needed to be machined. New bushes were required for the coupling and connecting rods. The piston rods were to be ground and new gland packing and piston rings were to be made. Other new items to be made by H&W included smokebox steam pipes, a drawbar for between engine and tender and a new small valve for the regulator. There were many smaller jobs such as overhaul of boiler fittings and replacement of pipework and boiler studs.
RIGHT: No.85 being erected with the boiler refitted to the frames. (C.P. Friel)



BELOW: The boiler prior to firebox work and retubing (C.P. Friel)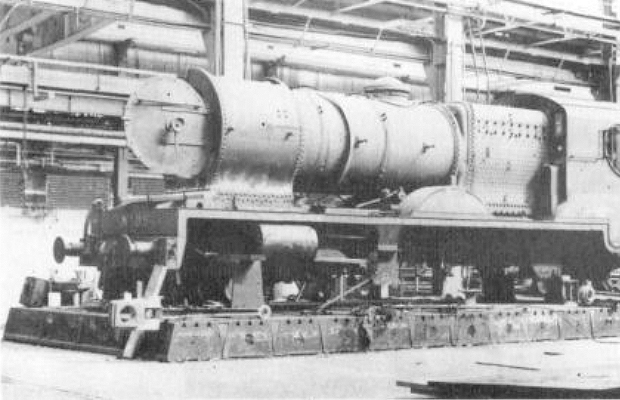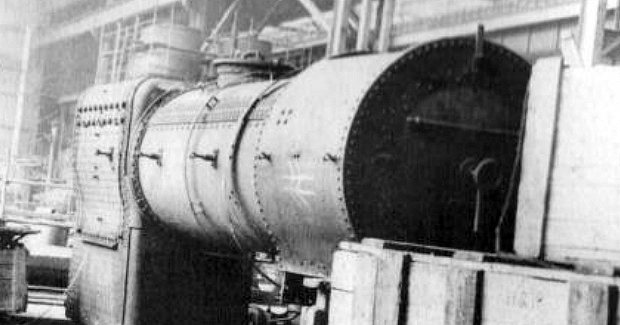 In 1997 she returned to the engine works, an overhaul followed which included replacing areas of wasted boiler plate, fitting new stays, new tubes, superheater elements, and glands and the repair of a crack in the cylinder block.