SHIPBUILDING DOCK and (Steelworking Facility Structures)

The building dock in Belfast was constructed between 1968-1970 by George Wimpey & Company.

General Information
Overall Length - 556 metre (1825 ft) Width - 93 metres (305 ft) Depth over sill at MHWS - 8.4 metres (27 1/2 ft)

Dock gate
The gate is a floating caisson weighing 1,400 tons. The gate has its own pumps for floating and ballasting and carries a 7.3 metre (24 ft) roadway across the dick entrance and may be used to exclude water from the dock or to impound water in the dock above high water level.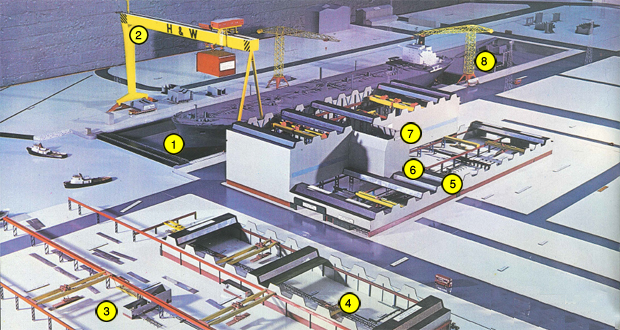 A large scale model of the works showing the new dock and facilities. 1 - Building Dock with ship under construction, 2 - Goliath Crane, 3 - Stockyard, 4 - Plate Shop, 5 - Section Shop, 6 - Panel Shop, 7 - Build-up Shop, 8 - Dockside Cranes
Intermediate Gate
The dock can be divided into sections by the Intermediate gate. This allows the next ship on the programme to be commenced at the head of the dock without interference when the main part of the dock is flooded to release the preceding completed hull. The intermediate gate is assembled from six main sections which are bolted to the dock floor and can be erected in four different positions including one at the entrance where it can be used to replace the main gate.

Dock Pumping Plant
Two vertical mixed flow pumps each delivering 20,400 tons/hour (76,000 gpm) can empty the dock in less than seven hours when started at low tide. The pumps can be used in reverse to assist in filling the dock and to pump the level of the dock above high water mark if it is necessary to retain a deep draughted ship afloat in the dock.

Three smaller dock drainage pumps operate automatically to kep the dock floor dry once the dock has been emptied.
Two fire pumps are also provided together with two automatically operated pumps for emptying the underfloor drainage system thus preventing a build-up of ground water pressure under the dock floor.

Dock Filling Valves
Two equilibrium cylinder type dock filling valves situated in the roundhead at each side of the dock entrance can fill the dock to a level of low tide in less than seven hours.

Piped Services
Fresh water, ballast water, fire, compressed air, oxygen and propane mains are led around the dock immediately below the cope with connection points at intervals as cope and dock floor level.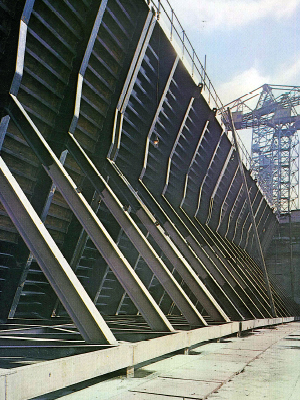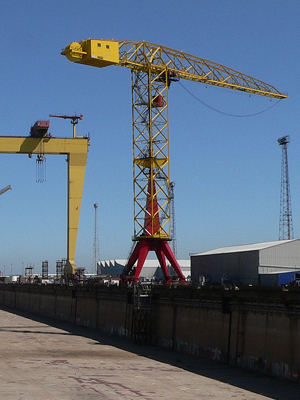 Electrical Services
Electrical supplies are provided at convenient intervals around the dock cope level. Cables are buried in the ground behind the dock cope and switchgear is located in a number of underground chambers. Three new electrical sub-stations have been built to serve the dock and steelworking facilities.

Capstans
Four 35 ton electrically driven capstans are provided and these can be mounted at a number of locations around the dock.

Goliath Crane
A 840 ton capacity Goliath crane, 140 metres (460 ft) span with an overall height exceeding 92 metres (300ft), straddles the dock and adjacent block assembly areas. The crane is powered by its own diesel generators and travels on a track 785 metres (2,570 ft) long.

Auxiliary Cranes
Two 60 ton capacity travelling cantilever tower cranes with a maximum outreach of 59 metres (188 ft) are provided, one on each side of the dock.

Block Assembly Area Areas at the head and along the east side of the dock within the coverage of the Goliath crane provide storage space for ship sections and positions where sub-sections are assembled into very large units before they are placed in the dock.

Roadways
Black top and concrete roadways have been laid around the dock, some of which are specially strengthened to provide routes for transporters carrying heavy ship sections.
Stockyards
Four main stockyard bays with cranes of up to 16 tons capacity are provided for plates and sections. The lengths of the bays vary up to 245 metres (804 ft.) in length with widths of up to 40 metres (132 ft) and height to rail of 9.25 metres (30f ft). Buildings in the stockyard area house plant for straightening, shotblasting and priming the steel plates and sections.

Plate Shop
This building is situated parallel to the stockyards and contains equipment for the edge preparation and cutting of the steel plates. The building is 150 metres (492 ft) long by 43 metres (142 ft) wide with a height to eaves of 10 metres (33 ft).

Section Shop
Steel sections are prepared for fabrication on an assembly line in this shop which is 210 metres (689 ft) long by 33.5 metres (110 ft) wide with a height to eaves of 9.5 metres (31 ft).

Panel Shop
Steel plates and sections are formed on an assembly line into large stiffened panels up to 240 tons in weight in this shop which is 21 0 metres (689 ft.) long by 28.5 metres (93 ft) wide with a height to eaves of 9.5 metres (31 ft).

Build-up Shop
Ship sections up to 400 tons in weight can be fabricated in this building which is 1 80 metres (590 ft) long, 55 metres (1 80 ft) wide and has a height to eaves of 35.5 metres (116 ft). Two 200 ton and two 40 ton cranes running on rails at different levels cover the whole floor area of this building. Large doors, 21 metres (70 ft) high are provided for the removal by transporter of the fabricated units.
MAIN CONTRACTORS
Civil Engineering Works
George Wimpey & Company Ltd
Dock Gate
Sir William Arrol &; Company Ltd
Intermediate Gate
Harland and Wolff Ltd
Electrical and Piped Services
Harland and Wolff Ltd
Dock Pumping Plant 
Vickers Limited
Harland and Wolff Ltd
Structural Steelwork
Harland and Wolff Ltd
Goliath Crane 
Krupp Ardelt Wilhelmshaven
Harland and Wolff Ltd
Consulting Civil and Structural Engineers
Babtie Shaw & Morton