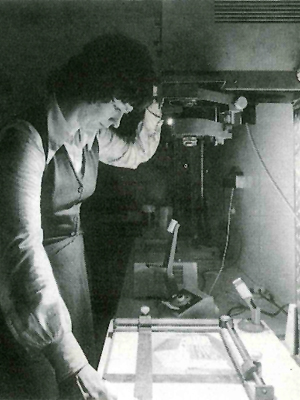 Freda prepares to turn out one of those 14,000 photos.
Photographic Department
Every time you pick up a works telephone directory, use a ship's drawing, or read 'H & W News' then you'll have cause to thank the firm's Photographic Department, for this small department, perched above the Queen's Road Restaurant, has a hand in all these productions, and many more.
As its name denotes, its main purpose in life is the taking of photographs, but the variety and scope of the photographs has to be seen to be believed. The department turns out 14,000 prints a year, many hundreds of which show the work which has been done on the vessels under construction arid thus form a record of progress both for ourselves, and also for the vessels' owners. In addition to these there are photographs of pipe fractures, faults in steel plates, damage to materials, scenes of accidents, presentations', retirements and, of course, the 25 photographs or so which appear in each month's issue of 'H & W News.'
Everything is faithfully recorded and filed away for future reference. Altogether the department has a store of some 54,500 negatives dating right back to the early days of the shipyard. Many of those early shots were taken by Robert Welch, who for many years was the firm's official photographer, but is better known for his "Views of Ireland"—a series of photographs of local scenes taken throughout the length and breadth of the island and now housed in the Ulster Museum. Keenest admirer of Welch's work is our present Photographic Manager Bertie Traynor who tries to, and often succeeds, in emulating Welch by infusing into even the dullest shipyard scene a touch of artistic magic. Many of Bertie's own photographs have been greatly admired in local exhibitions and some of them have formed the main display themes at many shipbuilding exhibitions to which the firm has subscribed in various parts of the world. They have also been used as the basis of all the firm's printed sales literature.

Black-and-white photographs are processed mainly by the department's assistant Mrs. Freda Rowan. It is she who produces the majority of those 14,000 prints. Colour photographs on the other hand are dealt with either by Bertie himself or our second photographer Norman Waddell. On occasions such as launches or float-outs, or naming ceremonies, where both black-and-white and colour photographs are required Bertie and Norman split the job between them as far as possible. There are times, however, when a single photographer has to take both kinds of photograph, and, when a ship is moving down a slipway gathering speed, changing cameras to alternate between black-and-white and colour is no easy task. Another not so simple task is the taking of aerial photographs both of ships on trial and of the shipyard itself. One of Bertie's more spectacular photographs taken from the air is reproduced on this page and Bertie assures us that the aircraft in which he was flying did, at one stage, descend below the level of the upper deck of "Lima." Even for a seasoned flyer leaning out of the side of a bumping air craft, camera ¡n hand, is no easy task, and Bertie is no seasoned flyer. In fact he suffers from airsickness, but one would never guess that from the quality of the pictures he brings back with him from these assignments. Photoraphy, however, is only one of the department's activities. The department is also the source of most of the drawings used throughout the firm. From the originals supplied by the drawing offices the department makes copy negatives which can, in turn, be used to make positive prints the same size or even larger than the original drawings. These prints are produced in the plan printing room where a staff of five is responsible for an output of something like 276,000 drawings every year—an average of 1200 drawings each working day!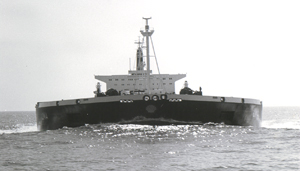 The tanker
Lima
on sea trials.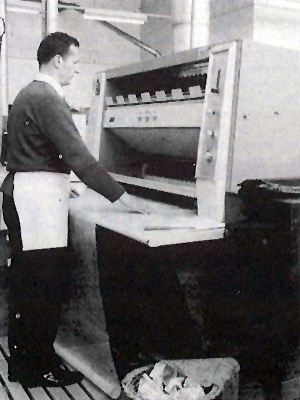 In the Plan Printing Room Drew Shaw feeds a tracing with sensitized material
Another activity of the department is silk-screen printing. The front cover of the works telephone directory is printed by this method which involves the squeezing of paint through a finely woven silk screen — hence the name of the process. By pasting a chemical "stencil" over the screen it is possible to prevent the passage of ink in some places while allowing it to squeeze through in others. The net result is a form of printing. Bertie Traynor and assistant Mrs. May Gilliland usually undertake this and produce not only telephone directory covers but instruction manual bindings, small flags for naming ceremonies, and even large display panels for advertising purposes. In fact two panels, silk-screened by Bertie, are now advertising "Hawk" products on the Manx Line's vessel "Manx Viking". Yet another activity is the printing of labels and nameplates—for example, the nameplate for the Harland M.A.N. engines—on anodised aluminium.
Lest one imagines that all Bertie's photographs are of snapshot size, his department is at present working on the production of a large photograph nine feet long by seven feet deep which is to form the backcloth to the firm display in the Gastech exhibition in Houston in November. And all the smaller panels in the display will be silk screen printed by - yes, of course, the Photographic Department.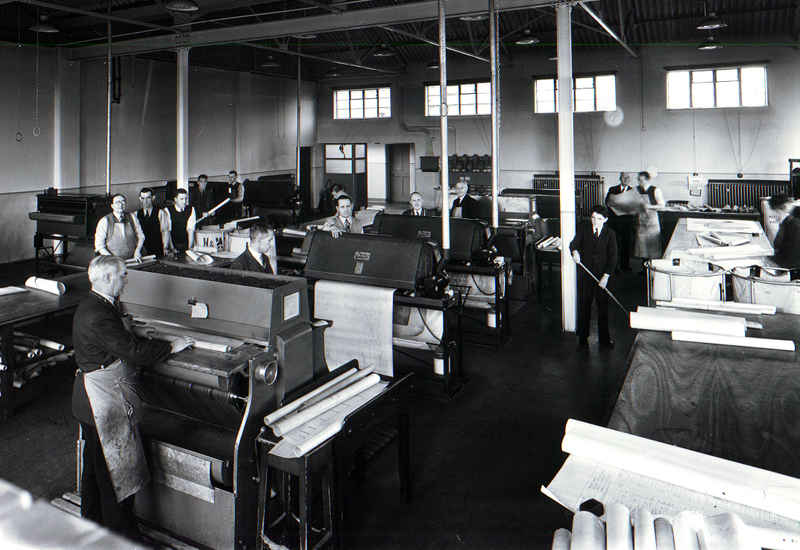 Plan Printing Room