Early Days
The beginning of the present era in Belfast shipbuilding dates from 1841, the year in which the Belfast port authorities commissioned a Co. Carlow engineer, William Dargan, to cut a wide, straight, and deep channel, 4 miles long, from the city, through the sloblands at the mouth of the river, to deep water. Dargan utilised the excavated material to make an island, Dargan's Island as it was first called, was laid out as a public pleasure ground, with trees, a green-house, walks, pools and bathing places.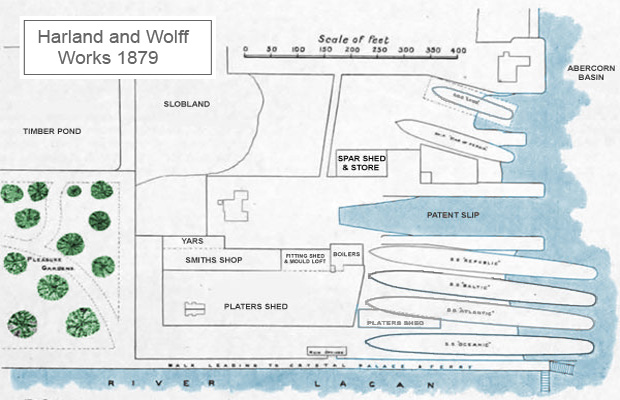 Soon after, on the occasion of Queen Victoria's visit in 1849, it was re-christened Queen's Island, a name which is still retained as the official address of Harland & Wolff today. But Queen's Island was not destined to remain long in its original character of a public pleasure garden.

Six years after the so called Island was finished, iron sailing ships were already being built on a corner of it by Messrs. Hickson & Co., and, just one year later in 1854, Messrs, Hickson engaged a lad from Tyneside, 23 years old, as manager of their diminutive yard, which gave employment to about 100 men. This lad's name was Edward James Harland.
After just four years managing the Robert Hickson & Company shipyard, he purchased the company for £5,000 and renamed it Edward James Harland & Company.
On January 1st 1862, Mr. Harland took his chief draughtsman, Mr. Gustave Wilhelm Wolff, into partnership. From that date begins the official existence of the present company.

On the slips (top right) are HMS Lynx, Star of Persia, SS Republic, SS Baltic, SS Atlantic, and SS Oceanic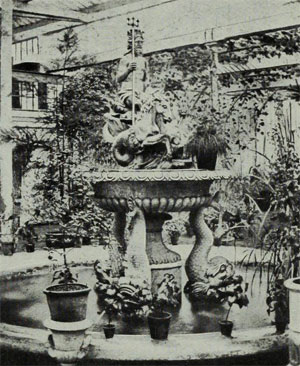 View taken in greenhouse on the Pleasure Gardens, Queen's Island.