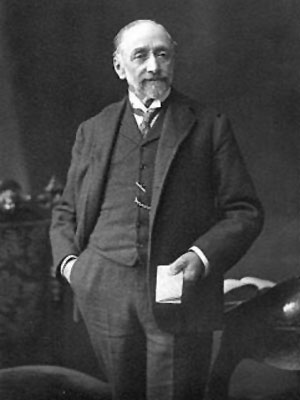 Gustave Wilhelm Wolff (1834 – 1913)
Gustave Wilhelm Wolff was born into a Protestant family of Jewish origin in Hamburg on 14th November 1834, the son of Moritz Wolff and Fanny Maria Schwabe.

On 11 April 1861 Edward Harland and Gustave Wilhelm Wolff entered into partnership.

He was also one of the founders, owners, and directors of the largest rope-works in the world located in East Belfast.

Wolff's early role at Harland and Wolff involved his engineering and managing the yard. Due to Wolff's German Jewish descent, he had links with the Jewish community in Hamburg and in Britain, and was able to attract business to the shipyard. Wolff worked extensively at the yard, and was partly responsible for building of the engine works at Harland and Wolff in 1880.More notably, his company was the first to begin construction of the RMS Titanic. After the conversion of Harland and Wolff to limited company status in 1888, Wolff was appointed as a director. Wolff was able to secure a good relationship with the Hamburg America Line, which was managed by Albert Ballin, a fellow Jew.
In 1892 became Conservative Member of Parliament for East Belfast – was unopposed at five subsequent elections. He retired from Parliament in 1910 and was given the Freedom of the City of Belfast as result of his interest in its welfare.

He retired from Harland and Wolff on 30 June 1906.

Wolff liked East Belfast, and lived at The Den, Station Road, Belfast. Concise and good humoured. When asked to make a speech on board a trial trip for a steamer, he said: "Sir Edward Harland builds the ships for our firm; Mr Pirrie makes the speeches, and as for me I smoke cigars for the firm" – and promptly sat down.

It was said of Wolff that he was a friend of the working man, benevolent and charitable, and "no place hunter".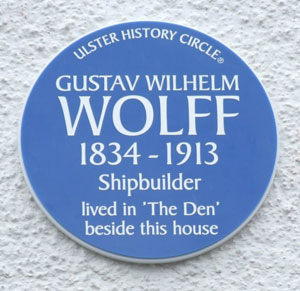 A group of Belfast historians and others gathered at 6 Station Road "The Den", Belfast to mark the life and achievements of one of the world's great shipbuilders, Gustave Wilhelm Wolff, exactly 100 years after the day of his death.
Mr. Wolff was a generous contributor to the funds of many of the charitable institutions of Belfast, notably the Ulster Hospital for Women and Children, while the Orange and other bodies benefited from his generosity.

His favorite recreations were shooting and fishing. He was a member of the Carlton, Junior Carlton, and Garrick Clubs in London, and of the Ulster and Union Clubs in Belfast.

Captain William Harland, a nephew of Sir Edward's, said: "Wolff was one of the most kind-hearted and generous friends anyone could have; not only was he an able financier, but also a fully qualified engineer,"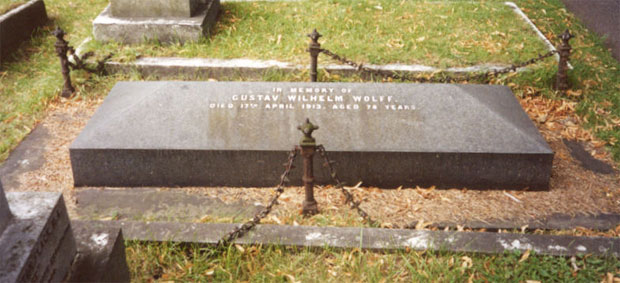 Gustav Wolff died on 17 April 1913 at 42 Park Street, London. He had been suffering from a serious internal complaint for some time. He was buried at the Brompton Cemetery, London.

He did not marry.