Harland and Wolff - Shipbuilding and Engineering Works
Our high-quality Rolex fake models feature a double core silicone "O" Rings, made of solid tube rubber create an airtight seal, providing decent IP65 water resistance (rain/spash proof).
(Reference: TY-0711)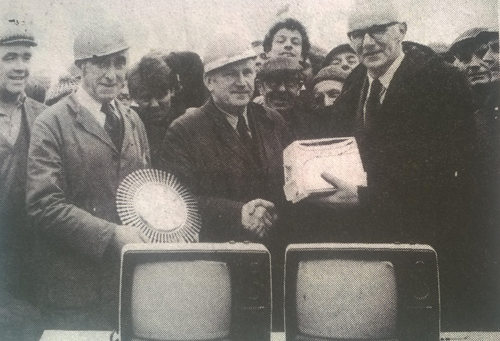 Two specialists in out fitting steelwork, Senior Foreman Steelworker Joe Anton (centre) and Foreman Steelworker Charlie Stewart (and left) bade farewell to the Musgrave Yard Preparation Shop on 25th February, 1977 after 40 and 50 years respectively in H&W. The warmth and esteem in which these two long- serving men were held was indicated by the large turn out of friends who gathered in Musgrave Yard from aft over the shipyard to wish them well, and to see Ship Production (Hull) Man ager, Jack Kirkpatrick (right) on behalf of their colleagues present each man with a television set and other gifts.