Harland and Wolff - Shipbuilding and Engineering Works
Our high-quality Rolex fake models feature a double core silicone "O" Rings, made of solid tube rubber create an airtight seal, providing decent IP65 water resistance (rain/spash proof).
(Reference: TY-076)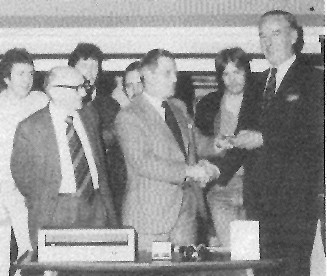 George Fone retired on the 9th November, 1980 after 40 years' service, the last seven years of which were spent in the electronics section of the King's Works Electrical Test House. At a presentation ceremony held in George's honour, Manager Hugh Kirkpatrick of the Test House spoke of his never-waning enthusiasm for the study of electronics, and Manager Dougie Liddell (right) of the Facilities Department, presenting him with a stereo unit and watch (the latter for his wife), told of his conscientious approach to is job. And then George, proving what they had said was true, told the friends who had gathered for the presentation that he intended to spend his retirement pursuing his favourite hobby - electronics.