Harland and Wolff - Shipbuilding and Engineering Works
Our high-quality Rolex fake models feature a double core silicone "O" Rings, made of solid tube rubber create an airtight seal, providing decent IP65 water resistance (rain/spash proof).
(Reference: TY-079)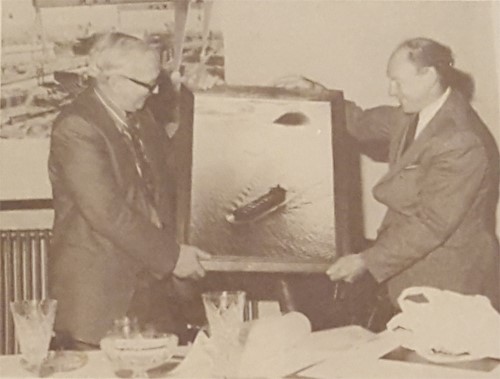 Manager Albert Brown presented Mr. Bryce with a framed photograph of the "Essi Camilla" When John Bryce, Safety Manager, retired on the 24th August, 1981 he ended what might well be called a dynasty of Bryces here in the shipyard, for his father and his grandfather both worked here before him. In fact the Bryce family accounted for no less than 150 years of service to the company. John's term with the firm began in 1934 and he told a gathering of friends and colleagues in the function room on the occasion of his retirement that he well remembered the first ship he ever worked on Ship No. 930, a yacht named "Idalia" built for Sir H. Raymond Dennis. He himself, however, is best remembered as Safety Officer, a post which he held from 1959 to his retirement, and it was with the gratifying thought that the Company's safety record is now comparable to the best in the British shipbuilding industry, that he took his leave from the job and the firm. Tributes to his work were paid by Mr. D. Tinkler, Personnel Director, and to his cheerfulness and helpfulness by many of his colleagues. John recently moved to his "retirement" cottage near Balloo, and the boat in his new driveway gives a clear indication of how lie intends to spend some of his retirement.