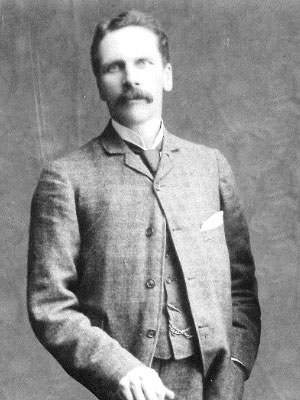 Walter Henry Wilson (1839 – 1904)
Walter Henry Wilson was the fourth partner in the shipyard. He was born in Belfast on the 4th November 1839. Educated at the Gracehill near Ballymena and Chester College, he adopted naval architecture and engineering as his profession, he was the first gentleman apprentice taken on by Robert Hickson in his shipyard in 1857.

On completing his apprenticeship in 1861, Mr. Wilson was given a place in the drawing-office, and in 1863 his ability and devotion to duty bore fruit in his appointment to the position of chief draughtsman. After retaining that post for five years, he was promoted to be sub-manager in 1868, and two years later, the business having greatly developed in the interval, he became general manager of the works. As general manager he continued until 1874, when he was taken into partnership
On completing his apprenticeship in 1861, Mr. Wilson was given a place in the drawing-office, and in 1863 his ability and devotion to duty bore fruit in his appointment to the position of chief draughtsman. After retaining that post for five years, he was promoted to be sub-manager in 1868, and two years later, the business having greatly developed in the interval, he became general manager of the works. As general manager he continued until 1874, when he was taken into partnership.

A man of quiet tastes and of reserved demeanour in public, Mr. Wilson's kindly disposition and attractive social qualities showed to best advantage among his friends and in the home life to which he was so strongly attached. He was not, however, unmindful of his responsibilities as a large employer of labour and a prominent citizen, and always took a keen interest in the welfare of his workmen and in local affairs. He was closely identified with the old Working Men's Institute and helped to found the new Technical Institute in Belfast. The Midland Railway Company appointed him to the directorate of the Northern Counties Railway of Ireland, when it took over the line ; and besides being a Justice of the Peace, Mr. Wilson, at the time of his death, filled the office of President of the Chamber of Commerce in his native city. He was a Member of the Institution of Naval Architects and of the Institution of Mechanical Engineers.

His death took place suddenly in the train between Portstewart and Portrush on 14th May 1904, in his sixty-fifth year.
Ornate Monument at Drumbeg
A striking ornate monument to mark the last resting place of Walter Henry Wilson.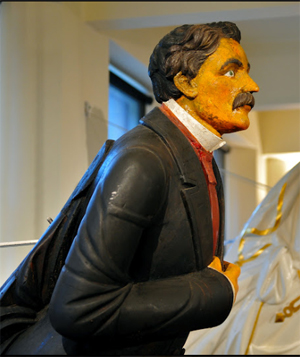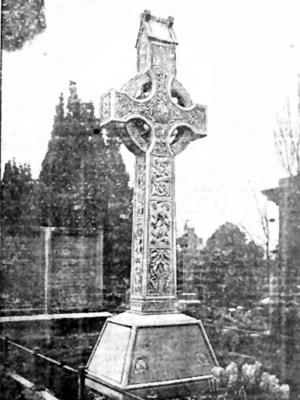 Walter Wilson was born in Belfast and was educated at Gracehill School, near Ballymena, and Chester College. He was apprenticed in 1857 to a shipbuilding company where he became a draughtsman. In 1874 he became a partner in the firm of Messrs Harland & Wolff, where he was responsible for many inventions in ship design such as the single-plate rudder and the prevention of electro-chemical corrosion of propellor blades by a method still in use today. He promoted technical education, was a member of the Midland Railways Northern Counties Committee and President of the Chamber of Commerce. He died suddenly on a train travelling between Portstewart and Portrush.

Above right - Walter Henry Wilson depicted on the vessel W.H. Wilson, the vessel was subsequently renamed Califoria and floundered of Newcastle, England, in 1913. The Figurehead was rescured and is now on show in the Åland Maritime Museum, Finland